Interior Design Styles
These reflect the influence of the Wintergardens structures designed by architects Gummer and ford.
Art Nouveau
The art nouveau home design style is similar to art deco in that it features decorative detailing combined with contemporary characteristics. However, this aesthetic is defined by flowing lines, rather than strict, geometric shapes. Door and window frames, along with furniture all have elegant curved edges which vary from subtle undulations to exaggerated fantastical contours. Its symbols and motifs are abstracted from organic vegetation and "a repertoire of biomorphic forms; much of its imagery is directly or obliquely feminine" [Banham 1997]. Other common elements of art nouveau design include floral patterns, stained glass windows, oriental rugs and wrought iron light fixtures and staircase railings. Lighting is typically made up of hand-blown glass or semi-precious stones and incorporates natural elements like vines, birds, branches and florals. Prominent Art Nouveau Designers include Hector Guimard, Louis Comfort Tiffany, Louis Majorelle and Carlo Bugatti.
Arts & Crafts
Arts & Crafts home design borrows interior elements from a number of different styles, including art nouveau and artisan. This design movement arose in response to the mass-production of global industrialization. It celebrated the nobility of the traditional craftsman, who imbued each piece with uniqueness and a humanity absent in mechanized production. In contrast to historical revival styles, furniture in the Arts & Crafts aesthetic tend to embrace a more stern, straightforward form [Rodel 2003]. Handcrafted furniture, rich wood trim made of oak or mahogany, along with stained glass and ceramic backsplash tile are all items that make up this interior motif. Imbued with naturalism, this style has a color palette that is typically earth-inspired and include dusty oranges, browns, taupes and sage greens. Another key to Arts & Crafts style is built-in elements. Kitchen cabinets, bookcases, shelving, benches and light fixtures are typically built into the walls in an effort to blend well with the architecture and create unity throughout the home. Lighting is usually made up of warm tones like hammered copper or bronze. Prominent Arts & Crafts designers include William Morris, Gustav Stickley, Charles Robert Ashbee and Richard Barry Parker.
Victorian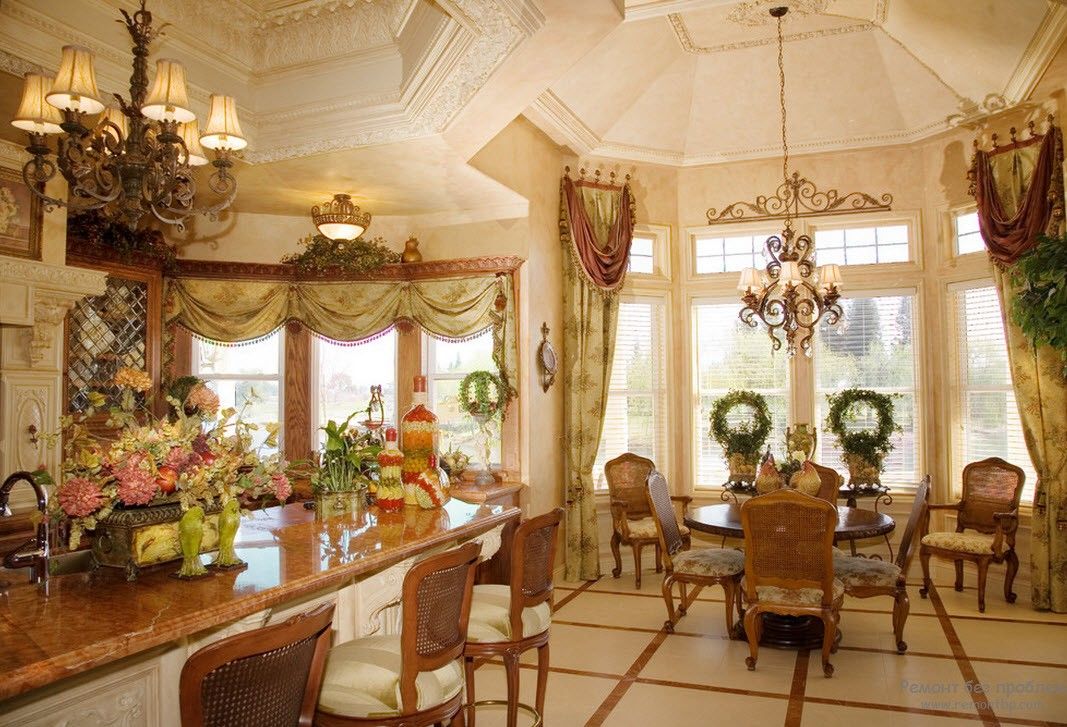 The second half of the XIX century is considered the origin of formation of the Victorian style. The name "Victorian" style was named after the reign of Queen Victoria, who reigned during this period. Victorian style at a glance incorporated: Gothic Revival architecture such as spires, buttresses, pointed arch door surrounds and windows and decorative ironwork; medieval influences including fleurs de lys, heraldic motifs and quatrefoils; rich dark colours such as ruby red, forest green, and dark blue; mass produced wallpapers including flock and damask styles and large bold prints of flowers and foliage; heavily carved, or plump, over-stuffed furniture, including button-back armchairs, sofas and ottomans; patterned, encaustic floor tiles and stained or etched glass; highly patterned fabrics or strongly-coloured velvets, festoon blinds and sumptuous window treatments; and ornate marble, slate or cast-iron fireplaces, inset with patterned tiles.

Hawthorn Dene
Hawthorn Dene Historic Country Cafe
Location: 280 Botany Road, Golflands, Auckland 2013
Hawthorn Dene was the home of the Rev Robert Hattaway, who bequeathed the land to Howick and Districts Historical Society. The house was left to the Historic Places Trust. Mr La Roche says the land cannot be subdivided and sold.
This café is just 5 minutes up the road from where I live. I have been going here since I was young with my close family and grandmother. I love to get tea and enjoy the beautiful garden and old style house. Situated down a long and narrow, gravel driveway, its tucked away from the busy Botany suburb and takes you out into an English style cottage dwelling. I like the atmosphere this café embodies and could use some elements to plan out my possible tea house intervention.
History of the Glasshouse
Glasshouses are common in Europe, where harsh winters prevent many southern hemisphere plants from thriving, nearly every botanical garden boasts a glasshouse full of exotic species. But Australia and New Zealand don't get too many chances at glass glory.
A status symbol of wealth and prestige
Glasshouses were only originally used by the incredibly wealthy and elite Victorians. Glass and window taxes made it incredibly expensive to create even the smallest of glass buildings, and they became a status symbol of wealth and privilege for the age. Elaborate bespoke glass buildings were created to maximise light and create the perfect temperature for plants previously only grown abroad.
Botany was incredibly popular in the Victorian era – in fact, it was the most popular science of the 19th Century. Plants were discovered and collected from all over the world, brought back to the UK and then shown off and studied accordingly. To help study, preserve and show off these plants, a temperature controlled environment was needed. There was also a growing need to prolong the growing season of many ordinary food plants too, so large beautiful, ornate glass houses were created.
Industrial change made glasshouses more affordable
The Industrial Revolution made glasshouse production costs drop. Timber became cheaper to import, paint and bricks could be mass produced, and innovations in the machine tool industry meant an increase in the production of wrought and cast iron. When the glass tax was repealed in 1845, along with the abolishment of window tax in 1851, glass became a more affordable material. The working middle-classes could now afford to build and own glasshouses too. Manufacturers started to produce smaller, plain glasshouses – iron and glass structures that could be self-assembled in your own back garden.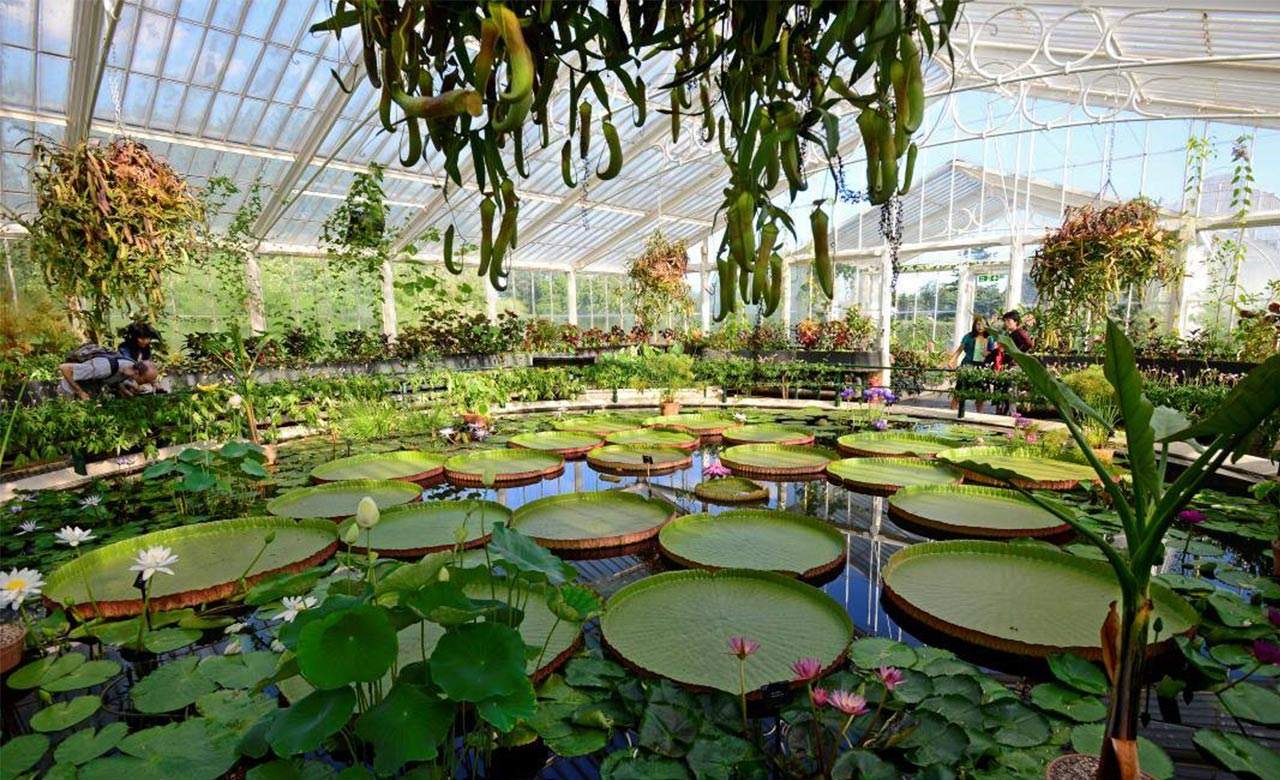 KEW CONSERVATORY, UK
The Kew Conservatory is one of the most well known greenhouses in the world. Established in 1987 by Princess Diana and housing over 30,000 plant species, the conservatory is designed to be energy efficient and uses some passive heating and cooling design techniques to moderate each climatic area. In one of the glasshouses, there are giant water lilies that span over two meters and a basement level that gives you a view of the underbelly of the pond.
The circular design on the triangular trusses look similar to that on the Auckland Domain Wintergardens so it makes me wonder if this was a common theme amongst European glasshouse structures.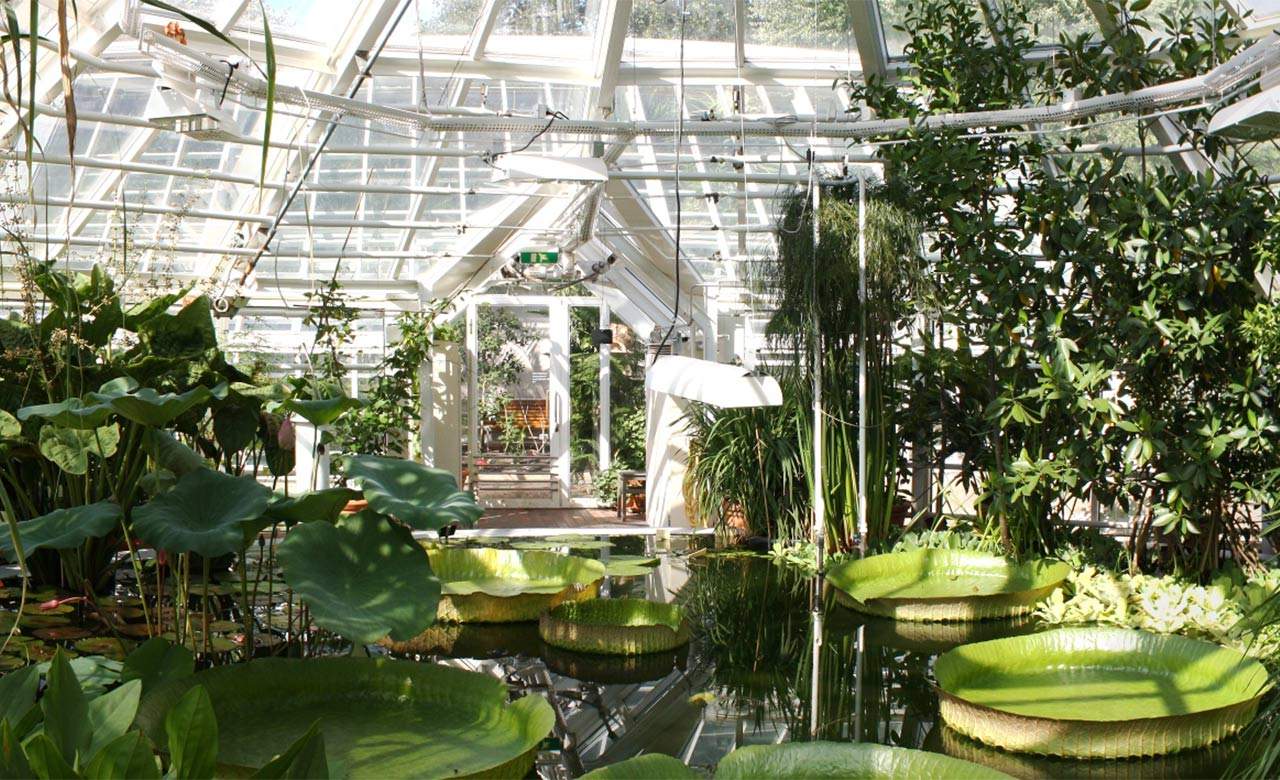 KAISANIEMI BOTANIC GARDENS GREENHOUSES
In the Kaisaniemi Botanic Gardens in Helsinki sit three plump glasshouses laced with white. They're laid out in a more rambling fashion than traditional greenhouses, with quaint benches and tables scattered throughout, and are used as much as an education facility as a peaceful retreat from chilly Helsinki. The rooms are organised by plant variety and the most striking include the Asian waterlily rooms (think water lilies the size of a picnic rug), the desert room and atmospheric rainforest room.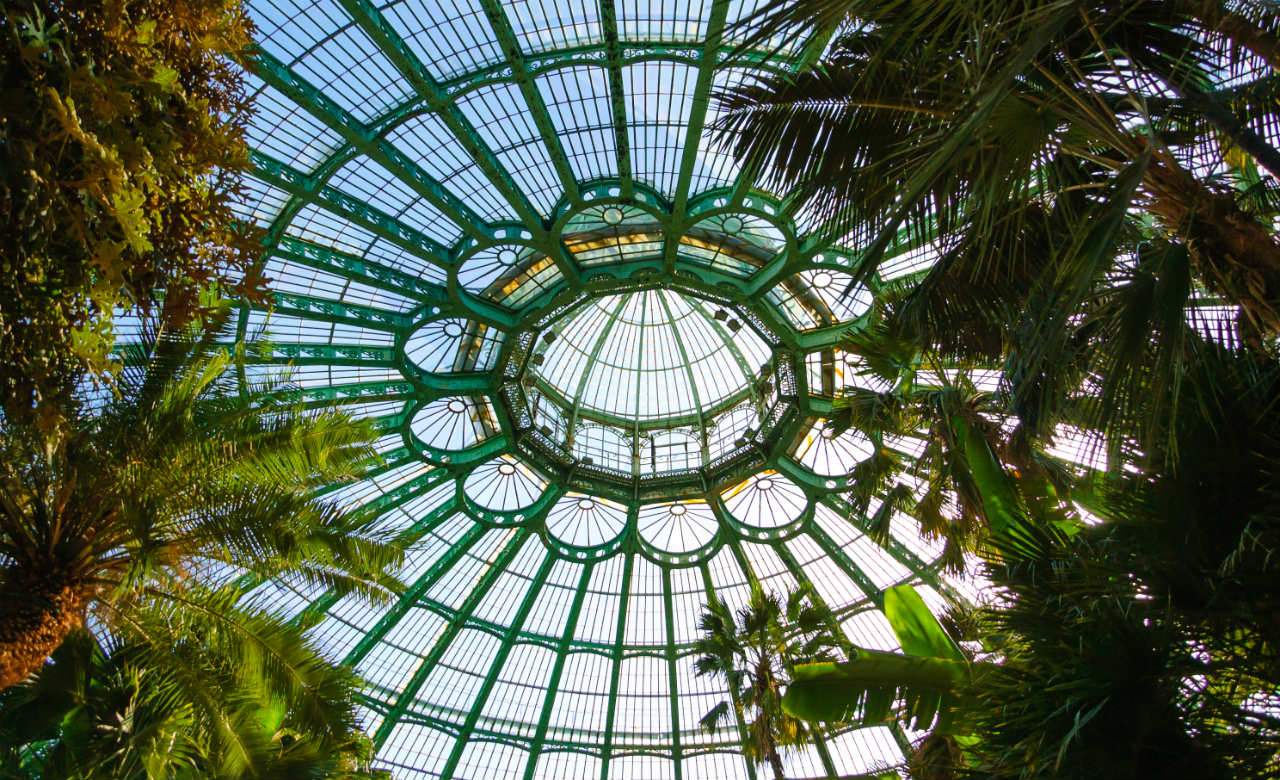 ROYAL GREENHOUSES OF LAEKEN
In the 1800s, advancements in construction techniques made the greenhouse, a building that's pretty much just a stack of delicate glass panes, possible. Many greenhouses that were built around that time followed the popular art nouveau style of looking like a glorious wedding cake — and those built on the grounds of Laeken, the Belgium royal castle, were no exception. The greenhouses were untouched during WWII and retain most of their original collections, however they're only open to the public for three weeks during the spring, which makes them all the more mysterious.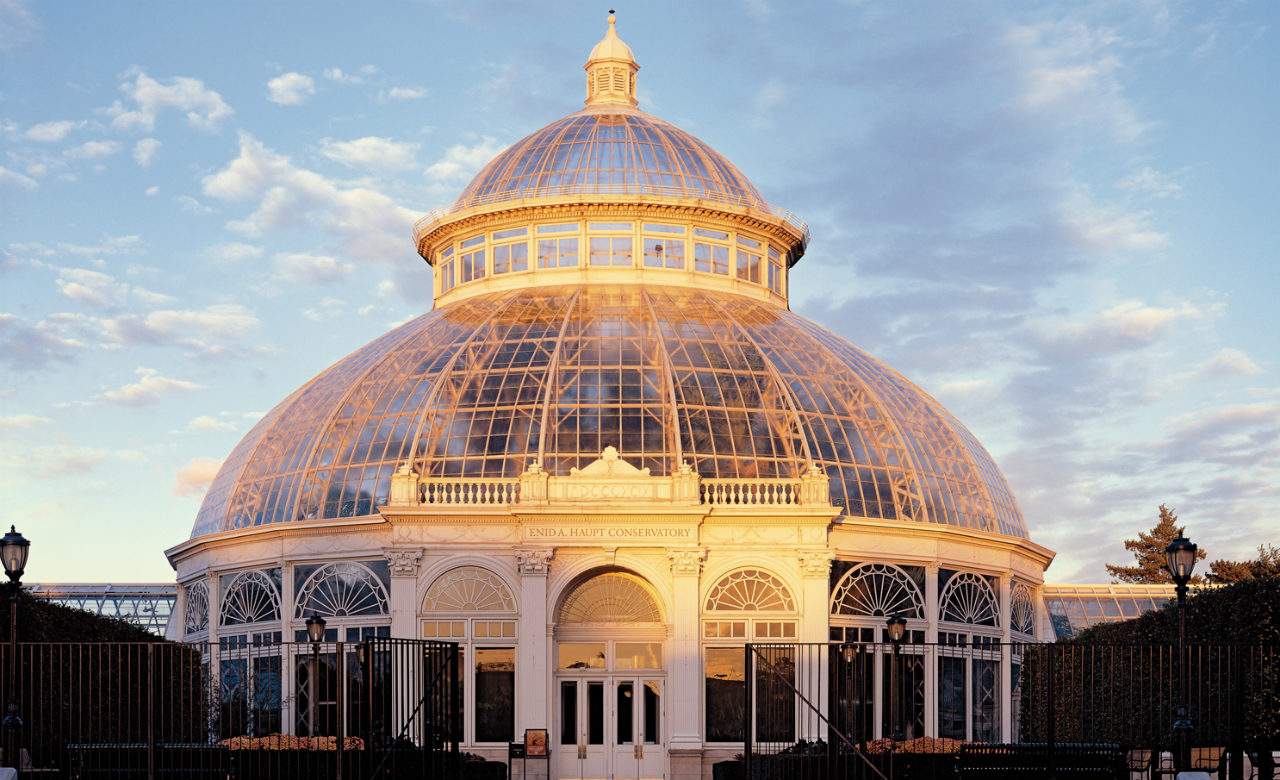 ENID A. HAUPT CONSERVATORY
New York Botanical Garden's pretty greenhouse is named after Enid Anneberg Haupt, who donated US$10 million in 1978 to save and restore the old conservatory. The conservatory (which is just a fancy way of saying greenhouse, don't be fooled) specialises in unique exhibitions for gardeners who really know what they're doing, including orchid shows (with vertical walls lush with orchids), the flora of the Japanese garden, recreations of Monet's gardens, wild medicine gardens and edible gardens. You'll also find greenhouse mainstays, such as a hot desert room and a steamy tropical rainforest room to get lost in.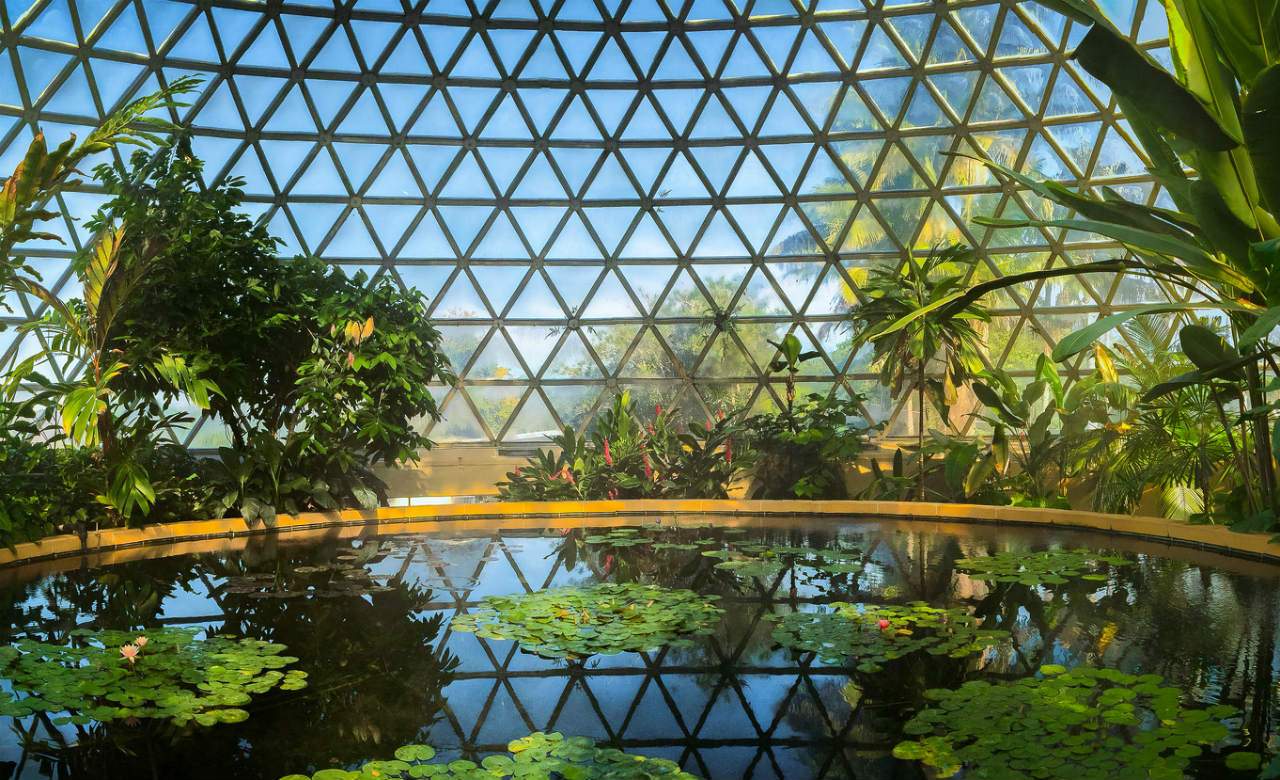 MT COOTHA TROPICAL DOME
The Tropical Dome in Brisbane's Mt Cootha Botanical gardens may not be as large or as fancy as the greenhouses of the northern hemisphere. Hell, it might not even be necessary for a sub-tropical city that is constantly humid to build a tropical dome that's even more humid. But people do love it. The bold geodesic dome pattern encloses a lush, if small, forest and pond and makes the perfect photo op. On the rolling landscape around the dome, you'll find a wide array of cacti and succulents (no greenhouse necessary to keep them alive, thank you very much) that look and feel like a tacky Western movie set. It's plant heaven and entry to the gardens is free all year.
De Gournay
Antique hand-painted wallpaper brand
Over the past 30 years, de Gournay has become known as the  go-to maker of antique interiors. Its exquisite, hand-painted wallpapers are produced in China by local artisans using techniques that date to the 18th century. We spoke to Rachel Cecil Gurney, co-director of de Gournay and daughter of the company's founder, to find out more.
How did de Gournay get started?
Rachel Cecil Gurney: 'My father, Claud Cecil Gurney, founded the company about 30 years ago. He was planning a trip to China, and thought that while he was there he might see if he could find someone to restore some antique wallpaper in his home because, of course, that's where the original skill is. In the 17th and 18th centuries, wallpapers were made in China exclusively for export to Europe. There are still artisans on the mainland using the original wallpaper-making techniques that have been passed down from generation to generation. The idea was to bring these chinoiserie wallpapers back into European homes, and to produce them in exactly the same way as they were originally made.
'My father met with a group of artisans, and they agreed to work with him. The Communist authorities needed some convincing, but eventually we started with a team of around five artists. Now we have about 100 artists in our studio in China, some of whom have been working for us since the beginning.
Chinoiserie is the European interpretation and imitation of Chinese and other East Asian artistic traditions, especially in the decorative arts, garden design, architecture, literature, theatre, and music. The aesthetic of Chinoiserie has been expressed in different ways depending on the region. it was rampant at the end of the 19th Century, while Victoria was on the throne (and, incidentally, when her husband Albert brought several pieces of Chinoiserie furniture into Buckingham Palace).